Korea Airports Corporation (KAC), the country's leading public corporation, specialises in the efficient construction, management, and operatiorn of airports. KAC manages a total of 14 airports throughout Korea including Gimpo, Gimhae, Jeju, and Daegu. More specifically, KAC manages and operates the movement of airplanes on runways, in mooring areas, and in passenger and cargo terminals, as well as various buildings, roads, and parking lots.
The business challenge
Gimpo airport is considered to be the gateway to Seoul, the Republic of Korea's largest city. The airport hosts up to 226 000 flights per year, the majority of which are domestic flights. In 2010 alone, Gimpo serviced over 17 500 000 passengers, classing it among one of the busiest airports in South Korea.
An airport of this size requires an advanced security system that can manage numerous events and incidents simultaneously. The previous security system installed at Gimpo airport proved to be a poor fit and as a result, inefficient. For example, the parking lots at the airport lacked a high-resolution digital surveillance camera system, and as a result, there was a high incidence of vehicle theft. It was also very difficult to identify the culprits of fender-benders; minor collisions were somewhat common during weekends and holidays when the number of vehicles in the parking lot would exceed capacity. The ability of Gimpo Airport to identify who was at fault was hindered by the security system employed. In any airport, immediate action is important and necessary in the event of any accident or incident. To address these security weaknesses, Gimpo Airport saw that is was crucial to introduce a new video surveillance system to ensure the safety and well-being of all the airport's clients and employees alike.
"The advantages of Omnicast are its remarkable software flexibility and its image quality"
Gimpo International Airport's security system requirements
Gimpo Airport needed a network system that would increase the effectiveness of its day-to-day operations. The existing analogue camera system at the Airport was no longer suitable to manage the airport's numerous accidents and events. For example, the analogue system encountered difficulties in playing and saving video images and produced low image quality and resolution. The airport required a more intricate sophisticated network solution that would streamline its security operations and management. The integration capability of the new security solution was an important criterion. It was projected that individual security solutions in diverse fields including iris and fingerprint recognition would at a certain point in the future, be integrated into the new network-based solution. The new system needed to be stable and fully integrated, with the possibility to install new components and to expand when necessary.
The perfect solution
Omnicast, Genetec's video surveillance solution, is optimised for the management of digital video, audio and metadata over an IP network. Its distinguished scalability and flexibility enable users to add cameras, workstations, and other system components at any location on the network. Omnicast was chosen for its remarkable flexibility and integration capabilities and responded perfectly to the airport's security needs by combining access control and video monitoring which were previously employed as independent security solutions.
Gimpo Airport specifically selected Omnicast Enterprise, our feature-rich, scalable, and flexible IP video surveillance solution, to completely replace the existing system. The security solution was implemented by Insung Information, Genetec's system integrator in Korea, which specialises in network and system integration.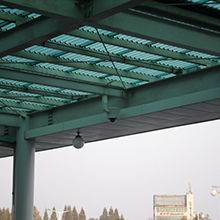 More than 20 high-definition cameras from Axis Communications were installed at Gimpo
More than 20 high-definition cameras from Axis Communications, a global leader in network video products, were installed making Gimpo the first airport in Korea with HDTV quality network cameras. A combination of AXIS P5534 PTZ Dome and AXIS Q1755 Network Cameras monitor 27 public areas including bus stops, taxi stands, and parking lots, covering an area over 300,000m2 and accommodating over 9,000 cars. Camera feeds are monitored in real time on two large 50-inch monitors, which are divided into 9 and 16 sections, respectively. The images are saved on two servers (one main server and one standby server) and are kept for 30 days. Genetec's solution was used from installation to operation without the need for any extra development by Gimpo Airport.
The benefits
Gimpo Airport's main concern was the possibility of a network overload caused by the transfer of mass data from the high-definition Axis cameras. However, Insung Information reassured Gimpo Airport that the implementation would go smoothly, and reinforced this assertion by presenting an implementation success story. Orlando Sanford International Airport in the United States, one of the busiest airports in the state of Florida, achieved a major system upgrade by implementing Omnicast together with Axis network cameras. This notable upgrade consisted of converting 150 cameras from analogue to digital and adding 80 new cameras to their system.
Insung also ensured that the system would be installed to meet the airport's specific requirements. "While it was a concern whether high-definition cameras would slow down the system, Genetec's Omnicast still performs remarkably well even several months after implementation. We are very satisfied with its performance. Thanks to the use of H.264 cameras, the total bandwidth requirement has been reduced. Moving forward, I believe we will continue to benefit from management and cost efficiency as well as the stability of the solution," said Yeon-seop Kim, manager of the Aeronautical Communications Team at Korea Airports Corporation.
"Genetec's Omnicast still performs remarkably well even several months after implementation. We are very satisfied with its performance"
In a real-time capacity, Omnicast has also been vastly useful as a traffic management tool. Road operators are able to view the entire road at once, making incident diagnosis and response immediate. The system has also allowed for quick evaluation of the effects an incident might have on traffic conditions several kilometers back. Orchestration of emergency vehicle arrival, monitoring of response time and surveying to ensure all needs are addressed can all be accomplished from one single location in the control center.
"The advantages of Omnicast are its remarkable software flexibility and its image quality. The good quality of the cameras combined with the superior performance of Omnicast allows us to get the images we need to do our job properly," said Tae-sang Choi, senior manager of Insung Information Co., Ltd.
Genetec's Omnicast solution makes it possible to automatically change monitoring targets with system events with alarm management and scheduling functions. For example, a surveillance camera can change targets to monitor the display devices of major facilities in the airport from midnight until dawn when there are not many passengers. Once the specific time period has ended, the camera can return to monitoring its original targets. This function significantly contributes to the safety and security of night workers at the airport.
Maintenance was also an important criterion when choosing Omnicast. Surveillance systems implemented in facilities where safety and security are critical, such as in airports, must minimise errors and failures. Immediate action and repairs are required in the event of an error or failure. Omnicast's intuitive user interface, which is perfectly optimised in the Korean language, enables administrators and operators to easily control the system and quickly analyse the causes of these errors or failures.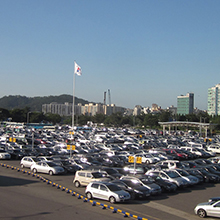 Genetec's Omnicast solution makes it possible to automatically change monitoring targets with system events
In the event that the main server stops due to failure, the standby server automatically takes over operations. This important advantage of the Omnicast Enterprise Solution means that a failure can be resolved without interrupting system operations. The operators of Korea Airports Corporation in the CCTV Control Centre can now monitor video images and operate the system uninterrupted 24 hours a day, 365 days a year. The operators and Insung Information maintain the network to solve errors and failures which cannot be resolved through initial checks or other measures.
"Omnicast has remarkably improved the efficiency and reduced business burdens compared to the previous analog solution," affirmed a maintenance team officer at Gimpo Airport. "Unlike analog systems, we can identify the causes of errors and failures on the network and fix the camera without having to physically visit the site. With Omnicast we are able to deal with failures and errors much quicker than before."
The results
Omnicast was introduced to the Airport in August 2010 and since its installation has had a significant impact on the prevention and resolution of incidents. The system provides concrete evidence and clarifies where the responsibilities lie when events occur such as pedestrian accidents, minor automobile collisions, and thefts both within and exterior to the airport terminals.
"We can provide better service to our employees and passengers with this new solution. Omnicast's advanced features help us manage the surveillance for our parking lots and help us prevent accidents that can lead to casualties," commented Yeon-seop Kim, manager of Korea Airports Corporation. "The biggest advantages of Omnicast are the systems scalability and flexibility. All the other regional airports along with International Line building at Gimpo Airport are planning to add new security systems. Omnicast will definitely be considered for these future projects."
"Combining Genetec's expertise as a provider of world-class IP security solutions with Insung's networking expertise has made the Gimpo Airport project a very successful one. We will continue to work with Genetec for future projects by fully leveraging our technical experiences we have built up," said Tae-sang Choi, senior manager at the Service Department of Insung Information.